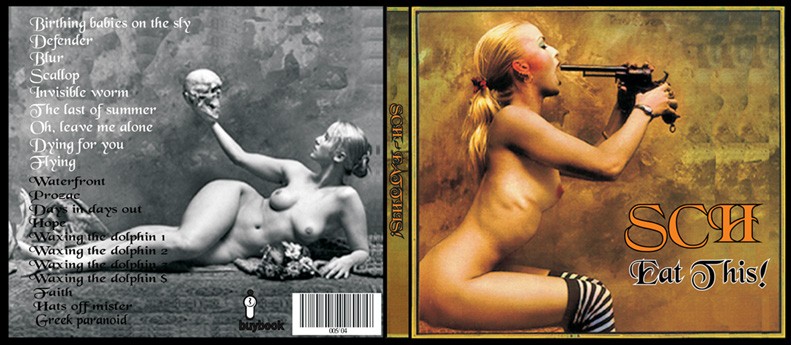 SCH - EAT THIS!
SCH IS:
THE MOST AUTHENTIC
THE MOST INTENSIVE
THE MOST UNUSUAL
THE MOST RADICAL
THE MOST SERIOUS
THE MOST AVANT-GARDE
THE MOST ALTERNATIVE
THE MOST CULTIVATED
THE MOST CONTROVERSIAL
THE MOST COMPLICATED
THE MOST UTOPIAN
THE MOST CONSISTENT
THAT IS, CERTAINLY IT'S THE MOST SIGNIFICANT AND BEST...ALTERNATIVE
BAND, PHENOMENON, PROJECT, ART-CONCEPT, IDEA, REALIZATION
IN THE HISTORY OF BOSNIA AND SARAJEVO

---
---
WATERFRONT

take me to the waterfront
it was harsh it was warm
there was a window
in your room
leading up
to the roof
there were
brownies in the yard
all them buried
upside down

you showed me to the waterfront
and i blew up
on your palm
i exploded
in your hand
like a popcorn
(turned from yellow into white)

take me to the waterfront
i saw stripes
on your arms
all those chains
tiny bars
beating marks
on your back
i hear there's a lone train coming
rolling down freedom's track
Funk it up then chill it out

let me dress you
as i wanted to
let me dress your wounds in blue
let me put my quilt on you

let me kiss you
let me miss you
let me hate you
let me take you
let me draw you
let me blow you

let me show you
the green point blue
SASHA
---
SCALLOP
You're the chalk smashed against the sidewalk,
a scallop plucked up on the plate. You milk has
spilled out on my scruff, I'll splash it out in the toilette.
The first time it came as a stream. Gently making its
scent to a dream. Then it started leaking, then it
faded away it just ran out of me one day.
YOU'RE MY SCALLOP, YOU'RE MY SPLASH.
I hated your little brothers, i hated you calling me pa
but i loved you so much baby, i loved so much that pinky bra.
Now, welcome to my fur again, welcome back to my pluck
I'm so scarred, so sorry baby, it was just a lack of luck.
You're my scallop, you're my splash!
My sorrowful grounded chalk, please help me stand up
to walk.
You're my scallop, you're my splash
SASHA
---
HOPE
Everything was quite in order
the day we had met each other again
We caressed, made love,
wandered together trough the depths of our souls.
So serious when we suffered
from our little enchantments
So frivolous when we thought
about ourselves
about new conditions.
Then suddenly he came.
mastered our souls,
shitted on our lives,
disgusted our sea to us
and disappeared.
We stayed on insulted, pissed of
without hope in beter life to come.
TENO
---
HATS OFF MISTER
Baying cur - gorging dung - prick up your ears
A change will come - hunting season
Opening hour - ram it up your - hats off mister
You are on my mind - the cold gun in hand
The winding road - uncovered by night
The southern borrows - the dead zone
A fair & easy game - up in the balcony
Making your way - whisper my name
Find some courage - and hold me close
A slice of you pecker - wrapped in a daily
Adorned in flowers - make a loved one happy
TENO
---
DYING FOR YOU
You're my one desire
You're the one who lingers in my heart
Let our hands entwine
Won't
Won't you take me with you
I am dying for you, my love
I do love you dearly
And I'll always long for your warm embrace
I need to be near you
Now and ever more
I am dying for you
Nights alone with you
My nights are lonely without you by my side
Your love used to grace me
Now it sadly withers
Dying for you my love
TENO
---
DEFENDER
He sleeps open-eyed, he's strong and always aroused, always
alert, always ready to help*** We, we, we all keep together,
We'll survive if we keep together, we'll survive, he knows, just
keep together, he says*** We gnaw at the same bone, weaving
bodies into a ball, ball of snakes, snakes, snakes, loathome
snakes*** O NIGHT COLD!*** We got no name, oh dear, we
got no face, we ain't got even a number yet, no*** Nobody
can split us apart, delute us, our blood. All that we have is here,
the cave and the prey it's here!*** It's all ours, my Lord, it's all,
all ours, all we have it's ours my Lord, we know, we know***
It's him who leads us ahead, instictively like a beast. And
tomorrow morning we'll move on, move on, move on. We
gonna go, go, go, days and days, moving ahead, slowly moving
ahead*** She's a grey shadow, often heard but never seen.
Her blood is our body, her blood is OUR BLOOD*** She sticks us
together, binds us together, the real protector is she, protector
of "MAN'S LAW"... and order*** We lay the table on the ground,
we devour food from our hands, MEAT WE EAT, bones we never
throw away. Disgusting! No, no , no it makes us feel so strong,
and stronger, and stronger...*** Youngsters follow us, they learn
***At nights we sleep together, weaving like a ball of snakes,
snakes nasty snakes, deadly cold, cold snakes, NIPPED IN THE BUD.
TENO
---
BIRTHING BABIES ON THE SLY
vicious spring has arrived
with its fragile little figures
dropping down fom the sky
bringing flakes to july
barebelly boobies shine
with the(ir) black and yellow ties
twisted awry
standing by
in shopwindows
or
passing by
outside
staring daring mesmerizing birthing babies on the sly
staring daring hypnotizing birthing babies on the sly
SASHA
---
BLUR
no pain no strain no one slain on your side in this game.
i remember one day, years ago, far away, blur was coming,
blur was spreading, blur was rising up, somehow it just faded,
so i longed to know why i got so fuckin' high, once i really
tried to die, but i failed.
for too easy it seems to be, way to easy you agreed
(to live alone without me).
If we aroused, if we found any brightness in this dark, that'd
be other than the reflection of those blunting brooklyn lights.
I wouldn't stray so far away, you could never say it was
bounce shiny trance, but just a chance.
for too easy it seems to be, way too easy you agreed to be
shrunken, to be reduced on yourself without me.
for too easy it seems to be, way too easy you agreed to live
alone, without me.
no pain no strain no one slain on my side in this game, (it's
just a game).
blur is coming, blur is spreading, blur is rising up and you
faded out of my sight.
too easy it seems to me, way to easy... seh, so easy...
seh easy, yeah... i seh, seh... eh... plop...
SASHA
---
DAYS IN DAYS OUT
Young, young, young, she so faithful to dark,
So young, still believes in chance.
So, so close to my vision of choice, between chaos
and concordance. But, she so far away, far away
from my girth. She so far away, faraway, walking the
streets in her maiden weeds, planting idle seeds
counting days on her beads.
Days in days out she's been waiting for me to come
to her place.
Dung, dung, dung, i can smell it all around, dung I
see it all around. It was close to the image of
the end, of the end of history and my band.
Then sey, one day i found the way, my way, then i lost
it again. Yes i found the way, anyway, walking the
streets in her widower's weeds, planting idle seed,
counting days on my beads.
Days in days out I'll be waiting for her to come down
to my poems.
She's found the way, my way, walking the streets in
her maiden weeds, planting idle seeds, counting
days on my beads. HA, days in days out she'll be
waiting for me to come to her place.
SASHA
---
FAITH
I am in you, your sin, i am you sin, your hand and
your brain, raise your hand, show me the way, i shall
go your way, (the way i am ordered to go),
I am not afraid of you, because you're mine, you are
a siner and i am your sin, you'll be burning, raise your
hand, you'll be burning, raise your bloody hand,
`coz you're mine.
Don't be afraid of me. You certainly know, it only takes
one signal, a short signal and I'll be dead.
You got power, that's why they love you, you have
money, that why they fawn upon you, even me,
I'll obey, I'll do everything, just tell me
where my darling lies.
TENO
---
FLYING
In your eyes enfolded a promise of love unknown
But this dawn will find me alone again, forlorn
Into a night of your love you had me flying
Deep in your heart of quicksand you left me dying
IBN BAQA
(free translation from Arabian - RIDA)
I had a dream
Jesus is a moslem now
I had a dream
To late for nazareth
I had a dream
Desert moan another name
Not a prophet not a saint
Another name now
Not a shepherd not a sheep
Man
I can lose my religion
But i can't lose my faith
No
GRAHA
---
THE INVISIBLE WORM is what i doubt, what i wanted to
talk you about, the invisible worm is what i was
thinking about all last afternoon and night. Please
don't wake him up in your mind and skin for he'd be
killed by a single venomous kiss of your thrill. The
strength of beauty, the beauty of the ill, the thrill of
beauty, the strength of what you feel, the ill of strength,
the beauty of a clone. She said: I am sorry if i seem too
demanding, but i am often afraid and always alone..
Though she'd have been willing, she laughs, how this
corpse is walking, she asks. She's a golden cut, a
precocious slut, still i dream of her at night. Some men
are afraid of dreams, of how it changes the order of
things, and secrets rise, no matter if it sinks or flies.
Through the fear the spirit becomes detached from
compassion and free...now, in black and white: he
pulls his trousers up and walks out into the night, feeling
somewhat satisfied. Now she's changed, she's a bleak
corner up the avenue of the real. Like a boat lost
between the lake and sky, she doesn't know if she sinks
or flies. Invisible worm, invisible worm, invisible worm.
ALICE & SASHA
---
PROZAC
Dolaziš mi s druge strane:
nema vrata s druge strane
samo prolaz zazidan.
Puštam te u svoje dane
kao što se pušta plamen
u balon krpljen, pocijepan.

Povlačiš se ka obzoru:
moje oko u prozoru
traži nešto neobično.
Pronalazi samo vrijeme,
kratke sjenke duge sjene,
nebo modro, nepomično.

Treba mi nešto jače od konjaka
kad te sretnem da se osmijehnem
i dodir dublji od tvog mraka
kad zastanem da se pokrenem.

Prisjećam se jedne scene:
grad ne vodi, dvije žene
na kraju ljeta pjevaju
pjesmom svojom mene zbunjuju
i osmijeh ne licu stranca dok
s mosta se baca
u istom kadru nestaju.

Čiji je to grad, bejbi,
čija se to kuća bijeli
dok nestaje u plamenu?
Što je to što me vuče k tebi
čija je to ruka, bejbi
zgrčena na mom ramenu?

Trebam ići još sto tisuća milja
da bih stigao tamo gdje sam bio već
po stazi kao snijeg bijeloj od prozaca
da se vratim kada potonem
SASHA
---
THE LAST OF SUMMER
The last of summer, now sadness looms, the shorter days
foretell the doom, this is a sinking town, dull and sepia,
autumn bound, mock punctuality hails the train, herd of
students flocking in, garments reek of Sunday best,
ruffians follow in their steps. With them the fabrics of their
ways, the stench and dirt that marked their days. Layer of
a canker world, glory to the provincial strain, close and
distant cousins gross, this very being they propose, with
perfect reasons they suppose, they claim the town for
their own*** Soon over her preamble word she almost gets
the BIGGEST OOO. Idioms close to idiocy, bring her close to
to ecstasy. The hole resound with applause, the legs too
weak to keep the pose, bending over, bowing down
she says: COM' ON Y'ALL, FUCK ME NOW! Her sycophantic
words insulting, her every move, vulgar affronting, the
twisted painted face revolting, nausea her very essence.
Ugly pictures on the screen, the dullest grey domineering,
your bovine face the stimulation, drawing sickening
fascination. But we've seen it, seen it seen it all, your
mean aims and servile ways, sussed you outright from
day one, piss of to where you once belonged...
TENO
---
Composed, played, sang - Senad Hadzimusic - Teno
Music on "Waterfront" - Darko Cvijanovic (bass, cricket) + Teno (voice)
Injection, consulting and a lot of useful things - Rida Attarashany
Voice on "Dying for you", "Scallop" - Rida
Voices on "Flying" - Rida, Teno, Graha
Backing vocal and a bit of synth on "Blur" - Rida
Artwork concept - Teno, Rida
Photo - Jan Saudek
Webmaster and a lot of good words - Sasha Skenderija
SCH official website:
www.s-c-h.com
Contact: e-mail -
nechotoho2000@yahoo.com
(p) + (c) SCH 2004
Under exclusive licence to BUYBOOK for territory of Bosnia and Herzegovina
Special thanks to Rida Attarashany

Note:
Music is not a matter of "taste". It's a state of mind, ok!
---
buybook
radiceva 4
Sarajevo
++387 33 716 450
www.buybook.com.ba





Mišljenjem Ministarstva obrazovanja, nauke, kulture i sporta FBIH broj 03-15-2205/04 od
16.09.2004., a na osnovu člana 18. stav 2. tačka 10. Zakona o porezu na promet proizvoda i
usluga (Prečišćeni tekst- "Službene novine Federacije BiH", br. 49/02. i 37/03.), ovaj proizvod je
oslobođen plaćanja poreza na promet proizvoda i usluga.












---